Meet the Team at Powell Clinic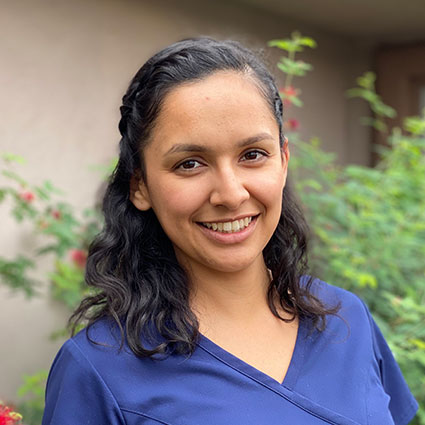 Ivette BS, LMT, CA
Massage therapist
Ivette joined the team in 2014, after graduating from ASU with a degree in Kinesiology. While working full time, Ivette completed certification as a Chiropractic Assistant and attended the Arizona School of Massage Therapy. As a Licensed Massage Therapist, she continues to provide physical medicine modalities and therapeutic procedures, as well as full body massage therapy and bodywork. Her kind, compassionate nature adds to the healing and nurturing environment provided at our clinic. Her avid curiosity drives her to constantly improve and expand her knowledge.
On a Personal Note
Ivette enjoys her dogs (all dogs, actually), cooking, exercising, and aerial fitness. She is highly conscientious of the environment and tries to lead a close-to-zero-waste lifestyle. She encourages everyone to do their bit to save the planet.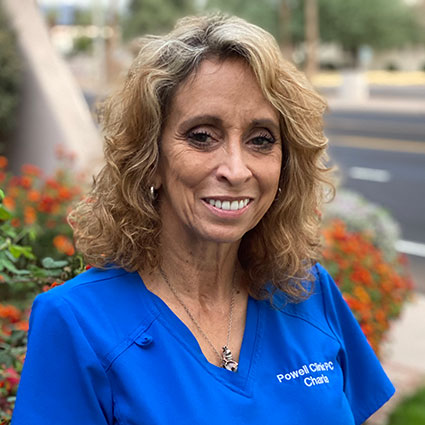 Charla
Front Desk
Joining Dr. Powell in 2002, Charla found a place to bring a nurturing spirit and high level of professionalism to benefit people in need. Having a diverse background, but always centering around 'taking care' of people in need, this became a vital part of her own journey. Taking charge of the front desk and related tasks became a central point to welcome new and established patients into our 'home' and ensure that they will be cared for and about when they call and then walk through our doors. Witnessing the remarkable successes from Dr. Powell's incomparable diagnostic skills and extensive educational background is truly the reward each day.
Charla does not consider 'just a job' but rather an opportunity to learn every day and see people's lives changed in ways they never imagined. The Functional Medicine aspect of the practice is one of the most exciting and rewarding part of each day. Charla is an active part of educating and exposing our patients to this new patient-centered, science based model of healthcare. Being part of the future of this concept of healthcare is inspiring, to say the least. A long-term desert dweller, Charla enjoys mountain air and ocean breezes as often as possible, reading, following local artists and musicians, and best of all, playing with her grandson.
---
Meet The Team at Powell Clinic | (480) 990-0664